And then you have one of those back-to-school mornings where everyone gets on the bus in tears and you just want to hang your head in shame…
It's the 4th day of back to school and its a morning a momma never wants to have.
There's one kid that needs $5 for this and there's no $5 in cash to be found. There's one kid that can't find anything to wear. There's another kid who needs help with her hair. There's a kid whose throwing a fit. There's another kid whose stressed out. And there's another kid who just won't follow instructions.
And so, the kids are screaming and the momma is yelling and the daddy is standing there shaking his head.
The new puppy runs to his bed, welcome home little dog. Sorry.
And then the momma walks her little ones to the bus. Their eyes puffy from the tears they've cried. And she puts them on that bus with a half-hearted hug and makes her way back home, hanging her head in shame.
She sits in the silence of the back-to-school morning gone very wrong. But she feels this prompting from the One who holds the healing to mornings-gone-wrong.
She thinks of the words in James 4:6, "But he giveth more grace…"
It's not an excusable pass for loosing the temper, not being prepared or the tears of frustration.
But its a place a momma must go when she feels like she's hit a brick wall and needs the moment that redeems.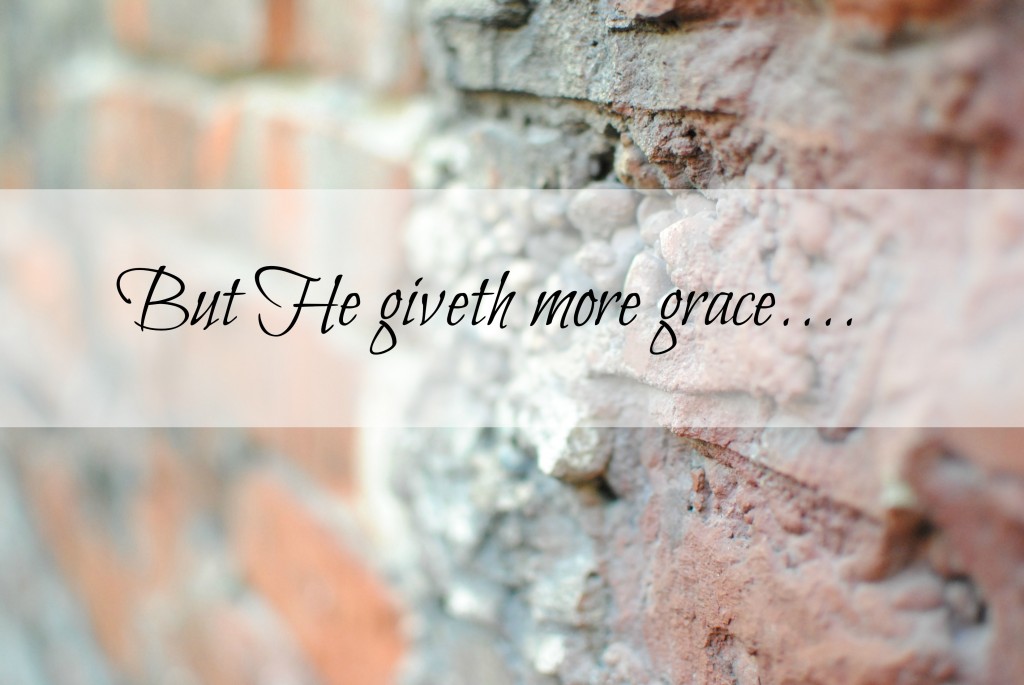 The Grace redeems the day that has tried to become stolen. The Grace renews the heart that has so quickly become weary.
The Grace restores the momma whose back-to-school morning has gone very wrong.
But He giveth more grace…
But He giveth more grace…
But He giveth more grace.
Maybe today you didn't have a bad back-to-school morning, but perhaps you've have something bump into your heart's peaceful place. Might you join me in redeeming this day by going to this place of Grace?
He giveth more grace…Amen.