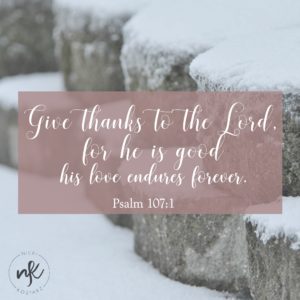 For the last thirty days I've experienced so much joy on Facebook.
I know. It's like the last place we find joy anymore. There's so much negativity. Information overload. And someone is always ranting about something.
But tucked away in the midst of all the posts, there was this little challenge:
30 Days of Thanks.
Each day hundreds of people woke up and decided to find something to be grateful for. It was so inspiring. I'm going to miss reading everyone's posts each day!
But the purpose of this challenge was to help us cultivate a spirit of thanksgiving, myself included.
They say it takes twenty-one days to create a habit, so the habit of giving thanks should be well embedded in us now. But I want to equip you and I both to keep this habit up.
So … we created this free printable journal just for this purpose!
Every 30 days you can print off a new journal and keep up the habit of giving thanks all year long. But there's the NEW challenge … we are taking this up a notch.
Now that we've found one thing each day, it's time to find three things each day.
In the journal, there's spaces for you to list three things. And if you're new to this challenge, maybe start off with just one thing?
But the more you look for gratitude, the more you'll see it.
Hope this journal blesses you. What will grattitude do for you? I can't wait to see …
If you participated in the 30 Days of Thanks challenge, leave a comment here on the blog sharing what this experience did for you and if you're accepting the NEW challenge.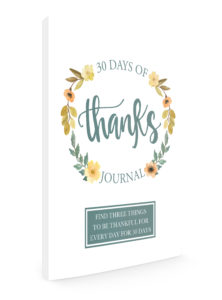 To view and download your
30 Days of Thanks Journal
CLICK HERE