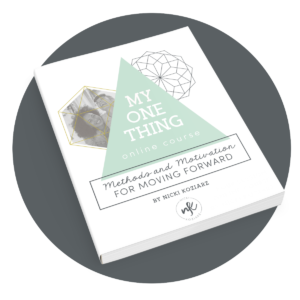 How do you know if you're completing the assignment God has given you? 
Focusing on too many goals and dreams will leave us depleted and defeated. But working toward one right goal, with the right tools to make it happen, will help us become empowered to keep going. Nicki has created a challenging, five-session course to help you discover and fulfill your One Thing
In the course you will walk through the entire book of 5 Habits of a Woman Who Doesn't Quit and discover methods and motivation to …
-Find a clear focus for the season of life you are currently in.
-See the important life-shaping moments you've already experienced and uncover what you're working toward.
-Stop being busy and become effective by discovering the best use of just 21 minutes a day.
In this course you will receive access to FIVE in-depth and inspirational video sessions from Nicki as well as an eBook that will walk you through life mapping, assessments, journaling, reflective questions, challenges … and so much more!
To find more details and watch the first session for FREE head to itsmyonething.com
Enroll in the course to gain instant access to all My One Thing content!