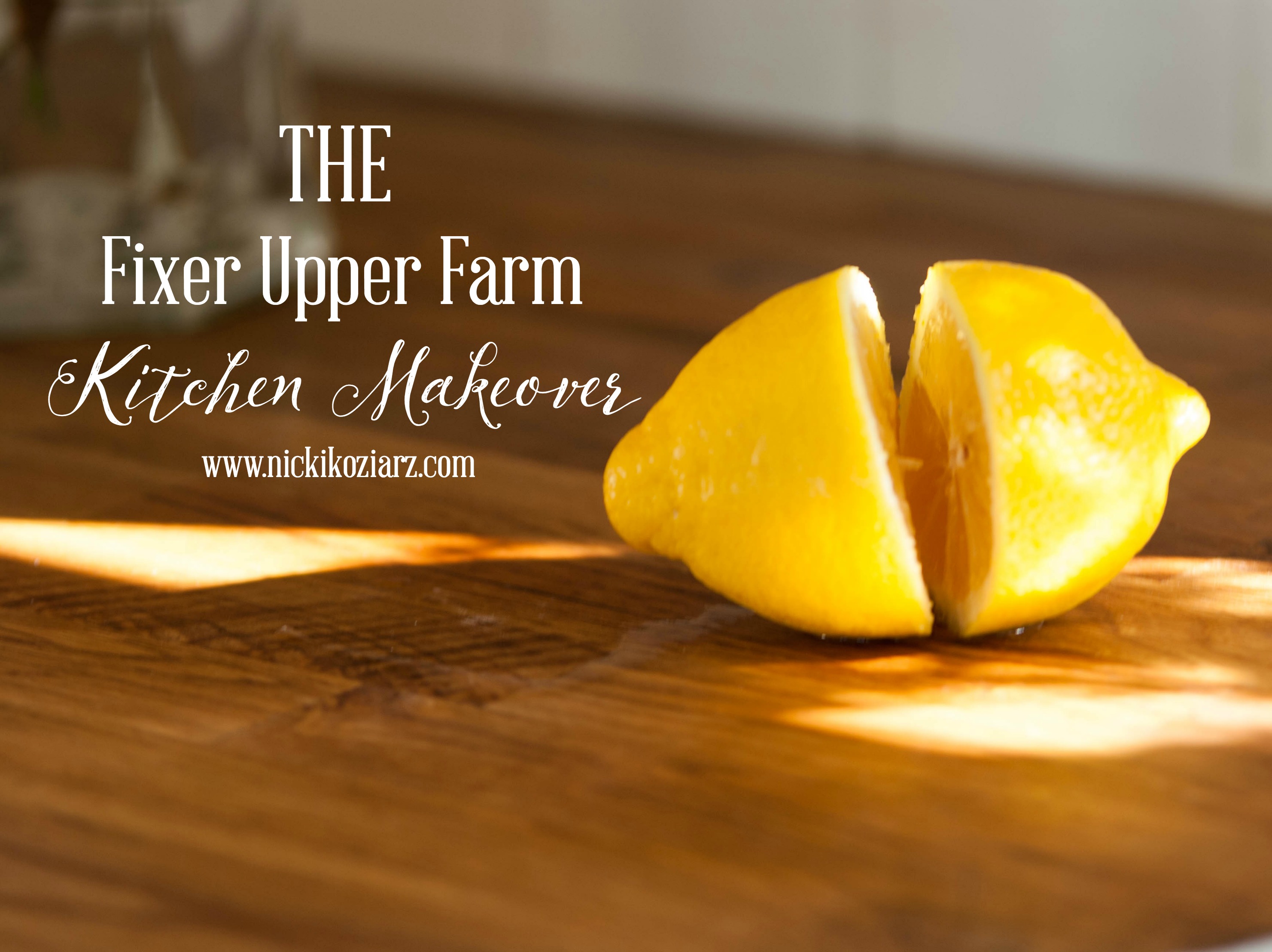 Did I ever tell you about the kitchen on the Fixer Upper Farm?
NO?!
Oh, well, today's a good day for that 'lil story. Grab a cup of something warm and let me tell you about the room that is the happiest of them all now.
The first time we saw the Fixer Upper Farm kitchen, all I saw was potential. I had a vision for those pink countertops and very neutral cabinets as soon as I walked in.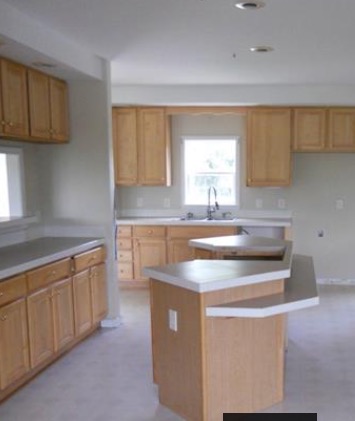 I couldn't wait to get started! And I had ALL.THE.PLANS. But that vision would have to wait fifteen months and get tweaked … a lot.
Because visions costs MONEY guys. And when you own a fixer upper? You have none.
But one day, we just got fired up and decided we would take this project in steps.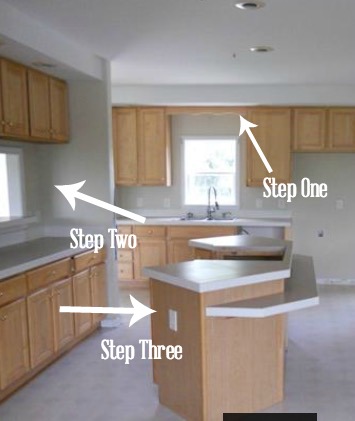 Step one was the simplest … knock wavy thing down. We did that before we moved in. Whoo hoo! [smiles]
Step two was a little more complicated than I originally planned.
I thought we could knock down the entire section above these cabinets to really open it up. But I was overruled big time because it was going to require re-wiring the entire kitchen. So, the vision changed and we took down the cabinets up top and opened the wall so it was a bigger square.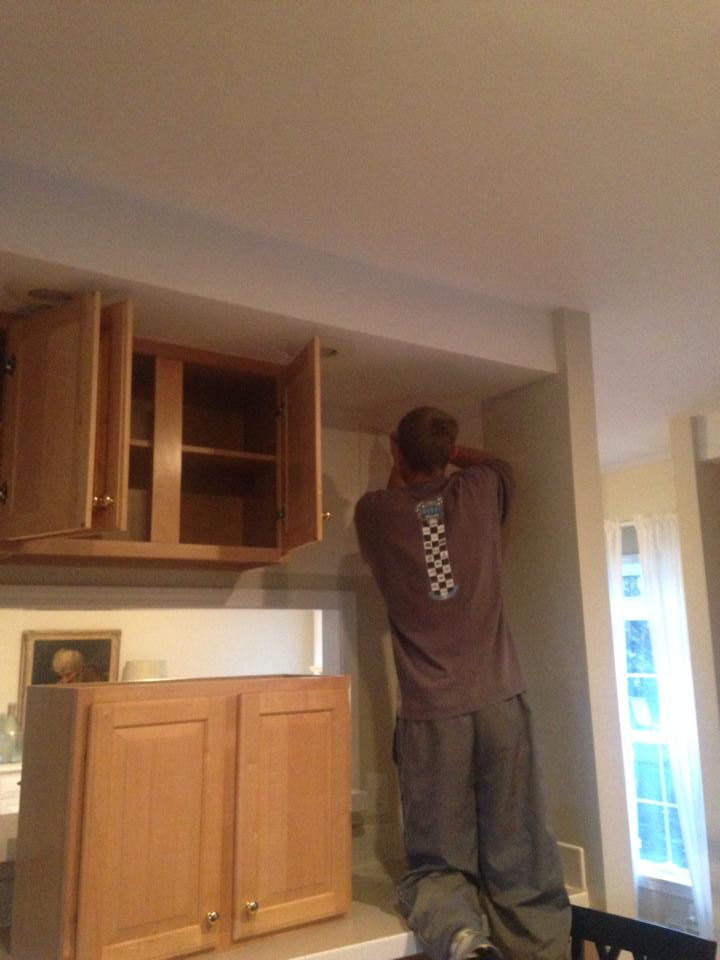 That made a HUGE difference.
And I know, this before and after makes it look oh-so-simple but I promise it was a mess for dayyyyssss.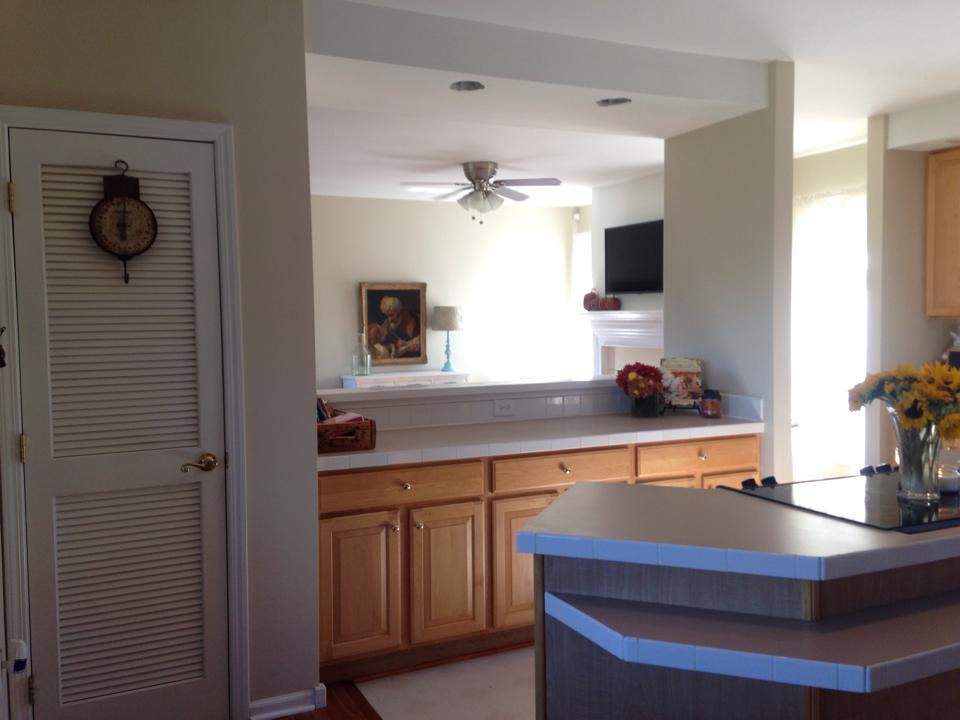 See?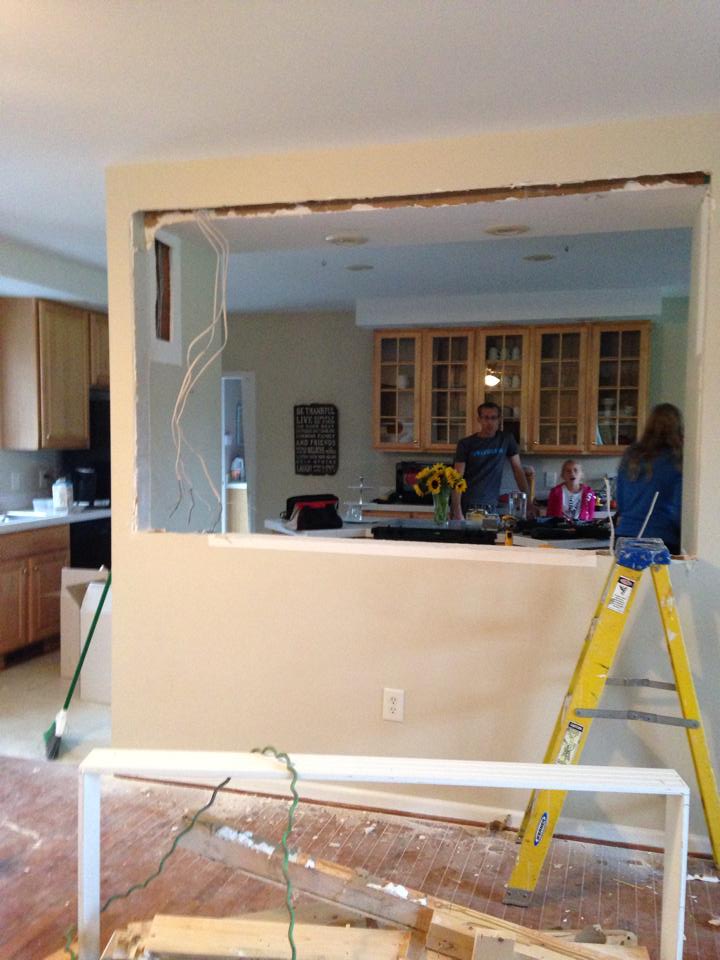 I thought our next step was to try and reconfigure the island. Because it was awkward and they don't make counter tops in that shape. But Kris had another "secret step" …
Last year on Christmas morning this amazing surprise awaited me: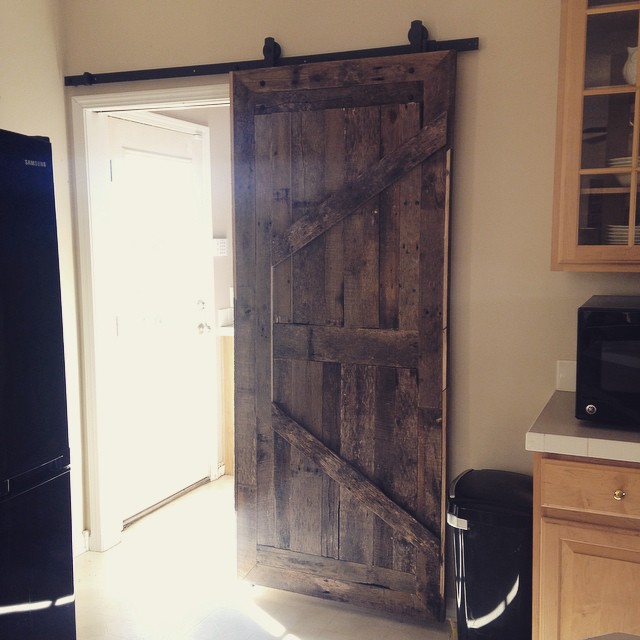 You guys. I know.  That man made this out of old pallets Kris found on the fixer upper farm property! For sure the best gift ever. 
My underwear and socks gifts for him really looked like chopped liver next to this.
He wins.
Then, it was REALLY time for step three. But there were a lot of other things that came up that needed Kris's attention. Things like septic systems overflowing, gardens catching on fire, pigs escaping from their pig pens, goats who needed a home and a momma pig giving birth not once but TWICE in a four-month period. I mean, life just swopped in.
But either Kris got super motivated or he just got tired of my countertop whining woes [probably this] and while I was away speaking one weekend, I came home to the sweetest of surprises.
A beautiful custom made island! I wanted to cry when I saw it. It was just perfect.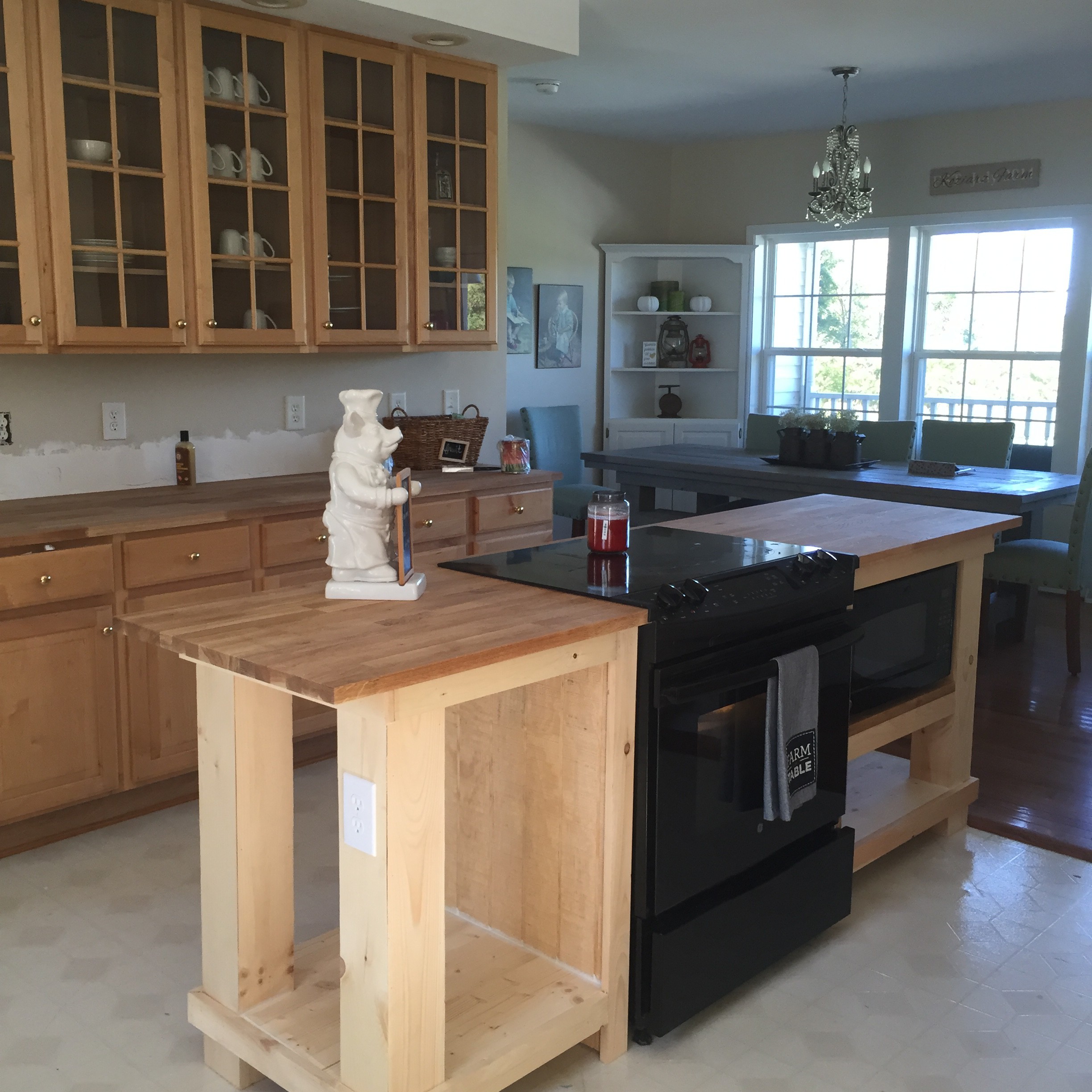 Just seeing the awkward island gone truly gave me hope for this fixer upper! But this … oh my goodness. It more than I could have dreamed for this space.
Also, Kris had begun to instal the butcher block counter tops. And this wasn't my original vision for the space. I REALLLLY wanted black granite. But we have a LOT of counters. So, it was either get the Ikea butcher block counter tops or wait a few more years.
So … I went with the obvious choice. 
And y'all … I LOVE them. I know there's all kinds of mixed reviews out there on them. But they are lovely and so far so good. They are very forgiving and if you mess them up, they can easily be sanded and redone.
Just don't put a crockpot directly on them all day. #lessonlearned 
Then it was time for the most dreaded step of the process. Painting the cabinets. Ugh.
I was in the midst of book writing season so … I was NOT in the mood to tear my kitchen apart to do this. And I didn't have hours to spend on this project.
So thanks to Pinterest, I found the easiest and fastest way to do this. Here's a link to the tutorial and this was the paint I used: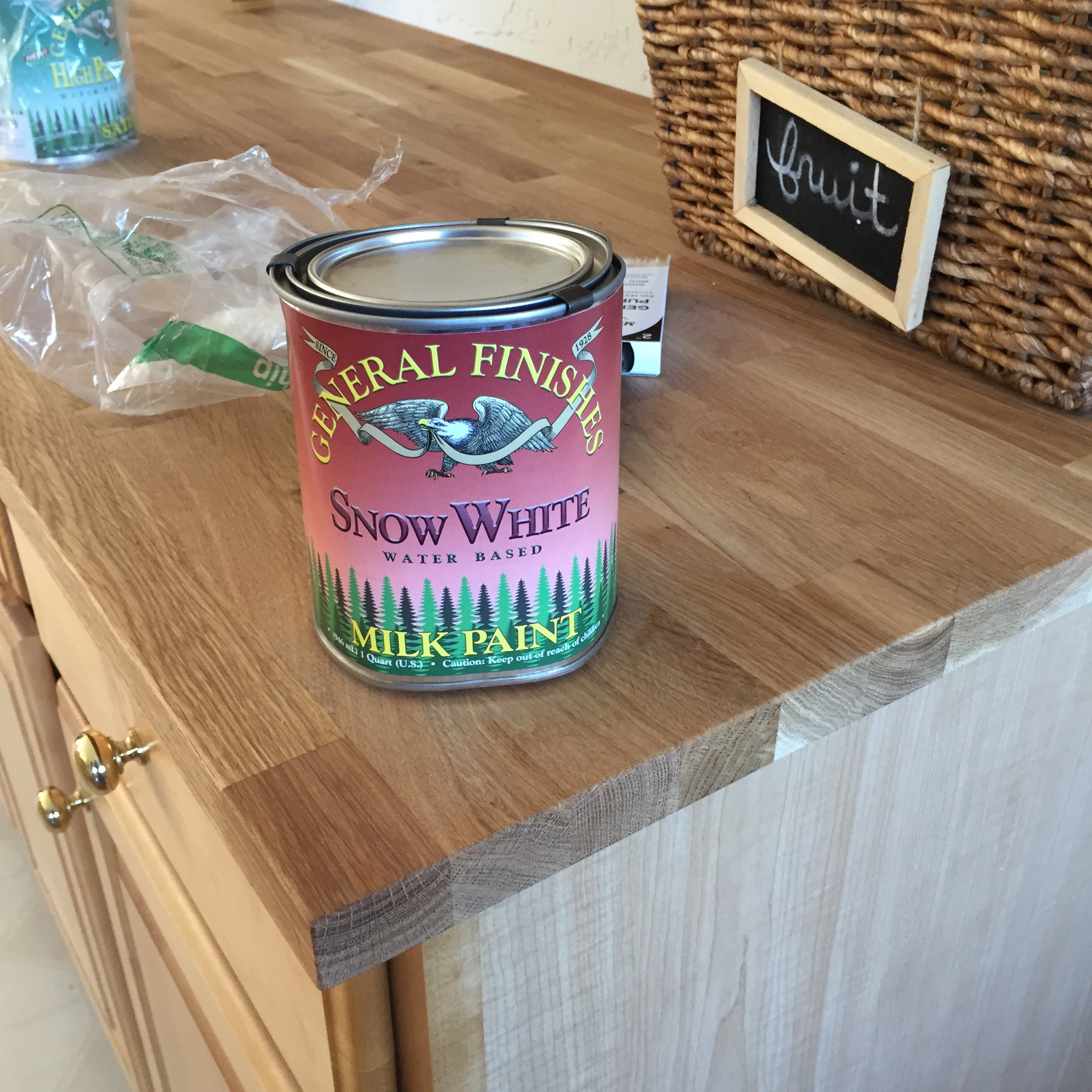 It's expensive but you guys … it works! And so far it's been holding up GREAT. Just follow all the tutorial's instructions. She knows what she's talking about.
So, for a few weeks I'd write a chapter … paint a cabinet. Write another chapter … paint another cabinet. It was a mess for  … I'd say a good month. 
But oh my goodness … it was so worth it.
While I was painting, Kris also installed the farmhouse sink, also from the amazing Ikea! And subway tile from Home Depot.
The floors are going to have to wait a few more years. It's a far from perfect room. And to be honest, there's a few cabinet doors that need to be repainted because I just got impatient. But can I tell you this? I don't even care.
I've learned so much in this process.
Completion isn't about perfection. It's about working hard, getting creative and doing what you can, when you can.
So, I'm so excited to finally share with you the room that is just full of happy at about 3:00 pm every afternoon as the sun shines in.