Happy Friday! And happy Summer vacation to my momma and teacher friends!
We wrapped up the 2015-2016 school year yesterday and I'm so excited to finally have Summer back.
While I absolutely LOVE Summer, I know it brings the tendency in our lives to slow down. Routines are less and white space is more.
Which is good but it can also be kinda dangerous. Because I've found when I'm not consistently working towards my goals, I can quit them and not even realize it.
Today I'm sharing 3 important questions to ask yourself BEFORE you quit on the awesome Jeff Goins's blog. Head over there to read the post, leave a comment on his blog sharing which of the questions you most identified with and then come back here to enter the Summer No-Quitting Giveaway!
You'll have a chance to win a Don't Give Up t-shirt! 1 copy of the Bible study, A Woman Who Doesn't Quit and 1 copy of the book 5 Habits of a Woman Who Doesn't Quit. And guess what? If you already have one or more of these items, we'll ship you what you still want and ship the others to a friend on your behalf for FREE.
Summer No-Quitting Giveaway!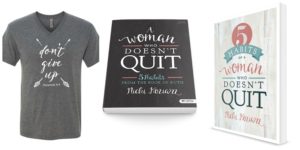 To enter the giveaway leave a comment here on the blog sharing which of the three questions from Jeff's blog resonated with you the most! I'll announce the winner next week.
Also, this Sunday night we'll have another session of Fresh Sight on Sunday Nights! Join us on Facebook at 8 PM ET for an encouraging Word to start your week strong.