In thirteen months, I turn forty-years old.
And I'm not at all worried, fearful or afraid of the aging process. This is life. And there is a time and a season for everything. I know a little more than I did in my 20's and early 30's but there is still so much to discover and wisdom to gain.
But it has made me realize how quickly time goes by.
And I want to head into forty, full of joy for the days to come but also celebrating what it means to really live.
I think bucket list's are an amazing tool for us to use. And I encourage you so much to create your own. Whether it's a Summer/Fall bucket list, a 30 before 30 or 20 before 20 or whatever … here are some tips to build your list:
Be realistic. Yes, I want to travel the world, but that's not gonna happen in a little over a year. Think through your budget and time restraints and be very rational with your list. The idea is to actually do everything on the list not just dream up ideas.
Sit with it for awhile. I took several weeks to think through my list and asked others for their insight too. I looked at the practical and creative things I've always wanted to do but then all those things I've looked at over the years and thought, "That looks really fun! One day, I'm gonna do that."
Write it down. Don't just say you want to do these things. There is so much accountability that happens when we actually write things down. But keep your list in front of you, read it each day and cross things off as they happen! That's the fun part.
Tell someone. I'm slightly nervous to release my list out into the world today because it's making it VERY real. Will someone say something negative about things on my list? Probably. But you know what happens when you're almost forty? Well, you get really comfortable with your own skin. So, let them have their opinion but know who's opinions you really care about.
Okay, so are you ready to read my list?
Here we go!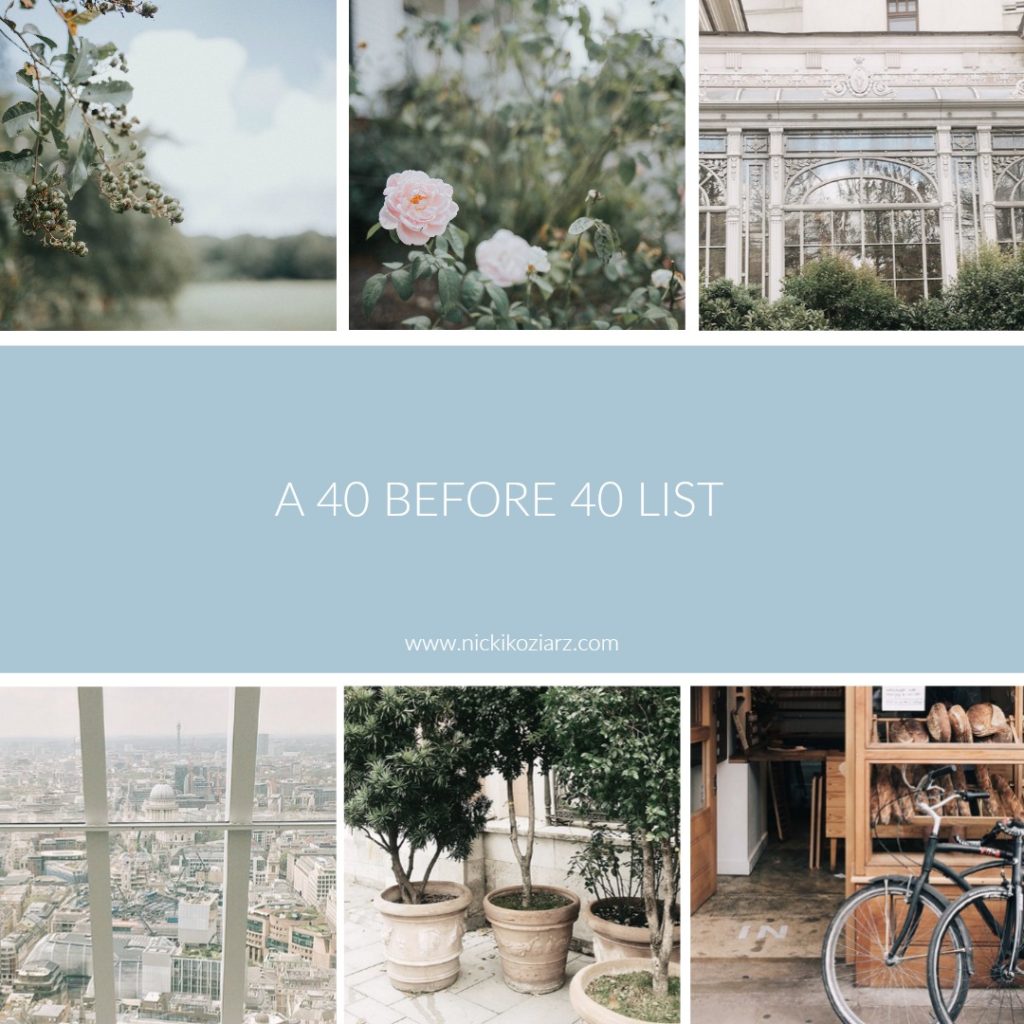 40 Things I Want To To Do Before 40 
Stay in a Historic B&B
Loose 30 pds (process has begun!)
Run a half-marathon at Disney (It's booked & I've started training!)
Read 20 books
Own two smiling sheep 
Write my 3rd book
Master beach waves in my hair (TY YouTube)
Speak at a conference in Hawaii 
Swim with a dolphin 
Sleep next to a waterfall 
Master eye-make-up 
Take a Hot Air Ballon Ride 
Ride an elephant 
Go to a concert 
Do 40 random acts of kindness 
Read the entire Bible 
Plant a successful garden 
See Niagara Falls 
Host a fancy dinner outside for friends
Stay in a Tree House 
Go to Israel to study the Bible
Finish the Fixer Upper Farm (We've got a list!)
Take a fun trip with each of my girls 
Go on a cruise 
Own a Louis Vuitton Bag  (It can be used!)
Get a Frenchie or another Pug 
Lean to play a new song on the piano 
See Mount Rushmore 
Go to Yellowstone 
See Hamilton 
See Wicked 
Be in the audience of a live taping of a game show 
Visit Magnolia 
Go Whale Watching 
Clean and organize the attic 
Get the Fixer Upper Farm Co. going strong so we can give more
Learn how to fold sheets
Learn how to do hand-lettering 
Sing Karaoke
Ride a bike around Mackinac Island in MI
Okay, there you have it.
And now … it's REAL. Time to make this stuff happen!
I would love to hear your thoughts about all of this especially if you have tips/tricks/connections to make any of these things on my list happen and also to hear what you think about creating your OWN bucket list in the comment section here on the blog!